How to prevent a wound infection
Any wound from amputation or other surgery is at risk of becoming infected because the skin opening can allow germs or dirt to enter the bloodstream. A wound infection can cause tenderness or pain, fever, redness, swelling and/or discharge. These infections can lead to further complications or surgery or even death if not treated properly.
If you suspect you are getting an infection, do something. Act quickly, before a small irritation becomes a serious problem.
The best way to handle a wound infection is to prevent it
Ways to prevent a wound infection
Wash your residual limb with mild soap and water, then rinse and pat dry. Do this at least once a day, or more if you sweat a lot or are treating a rash or infection. Ask your pharmacist to recommend a nonperfumed, pH-balanced lotion.
Wash anything that comes into contact with your skin (liners, socks, inner socket, etc.) with mild soap and water, then rinse and dry (check manufacturer's instructions).
Do not use alcohol-based lotions on your skin, as it dries it out and can cause cracks, which can lead to infections.
Use only enough softening lotion to avoid flaking, peeling dry skin. Ask your pharmacist to recommend a non-perfumed moisturizing lotion. Do not apply moisturizinglotion to the amputated limb immediately before applying prosthesis. The best time to apply lotion is at night before going to bed. It is important to prevent either excessive dryness or excessive humidity of the skin.
Maintain a good prosthetic fit; learn how to adjust your sock ply, if applicable, or go for a prosthetic adjustment if you start to get redness over a pressure area. This will prevent the pressure area from becoming a pressure sore.
Maintain correct alignment of your prosthesis by wearing the correct heel height that your prosthesis was aligned with and by maintaining a good socket fit.
Eat a balanced diet and drink plenty of water (unless you have liquid intake restrictions) to maintain supple, healthy skin.
If you are a diabetic, monitor and maintain your glucose levels.
If you have decreased sensation in your limb, remove your prosthesis several times per day to check for pressure areas.
You may have a wound that you are very capable of managing yourself. Sometimes, however, a wound needs professional management from a doctor or nurse. These wounds can include leg ulcers, lacerations and skin tears or wounds that have not healed properly after an operation.
More wound care advice
Looking for more health and well-being tips? Check out our wide range of health tips from leading health professionals.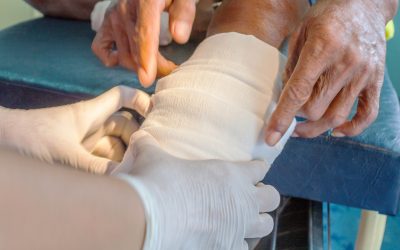 Lacerations & AbrasionsThe Skin The skin is the largest organ of the body, and it is the first line of defense against disease and any breach in skin integrity has the potential to develop an infection1. The skin has several important functions, it protects the...