Inform Magazine is released quarterly by
Independence Australia and includes articles
written by people who have lived experience
with disability along with advice from experts
working the disability space, providing you
support in navigating the NDIS and our
community at large.
Pelvic Floor Exercises
If you're a woman with poor bladder or bowel control – and perhaps you've had this
problem for some years – the time has never been better to do something about it. 
What is a hydrocolloid dressing?
A hydrocolloid dressing is a type of dressing
that provides a moist and insulated healing environment that protect uninfected wounds and allow the body's own enzymes to assist in the healing process.
Tips For Better Bladder Control
Bladder control is something most people
take for granted – until it's gone. But if your bladder control could be better, it's important
to know you're not alone.
What Are NDIS Consumables?
Meet our three NDIS participants Oliver, Belinda and Ade. They've provided tips and advice on navigating the NDIS consumables budget and better understanding what you can and can't access with this.
Get to know how your plan can work for you by watching these videos!
Buy NDIS Consumables
Use your NDIS consumables budget to buy continence, wound care, home enteral nutrition (HEN) and disability related health products.
No matter how your NDIS plan is managed, you can shop online for the everyday items you need, from all the major healthcare brands. With warehouses in every state, your order can be delivered quickly to your doorstep.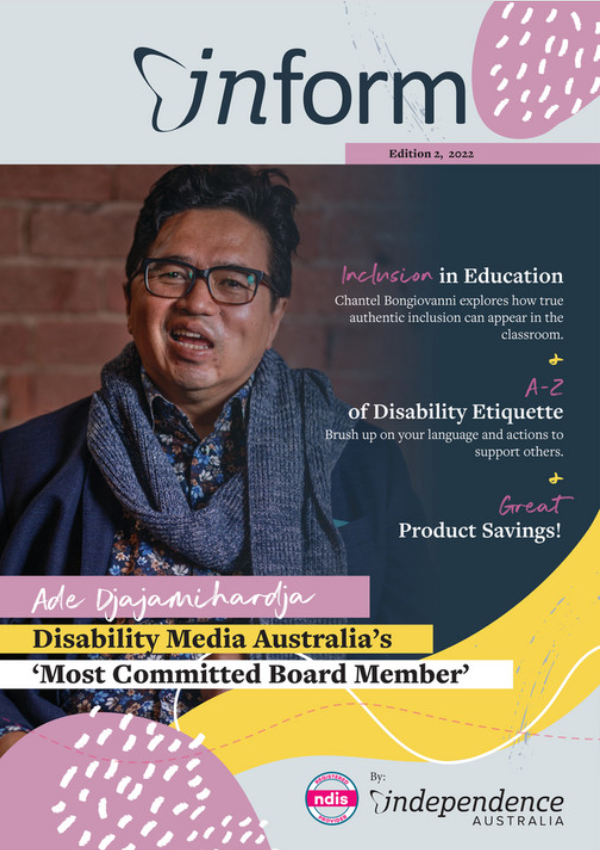 Inform Vol. 2 - May 2022
Ade Djajamihardja's expansive broadcast media career began in 1987. Ade's career has unfolded over a vast and colourful path across the globe.
Inform Vol. 1 - January 2022
Ken Haley may well be the most travelled man in Australia. With over 143 countries visited in his lifetime.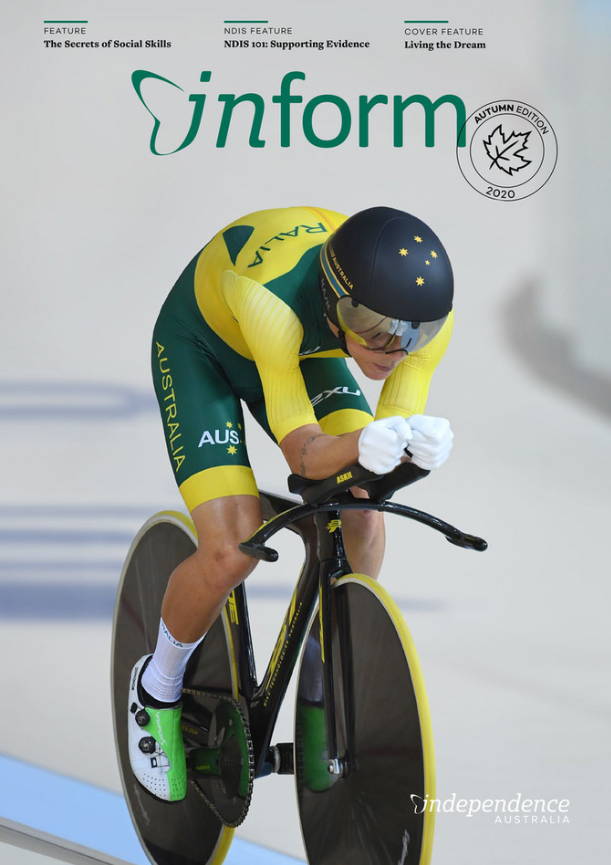 ISSUE 30 - Autumn 2020
In this issue of inform we celebrate
hard workers, the people out there
every day working at achieving
their dreams.
About Independence Australia:
As a social enterprise Independence Australia believe that it is possible to run a business that does good for the world. We do this by this redistributing surplus funds we generate from the sale of healthcare products into programs that support people living with a disability.
This allows us to dedicate time and effort to go above and beyond to meet the needs of our community.
We focus on providing access to support that can enable people to reach their goals. These programs include support coordination, psychology, and counselling, in home support and complex care.
Subscribe to Inform
Be the first one to get updates on our latest wide range product.