Art and the NDIS
Independence Australia is a registered NDIS service provider and provider of Inform Online and provides a range of options for beginning your NDIS journey, accessing supports such as NDIS consumables, viewing NDIS guides, resources and tools such as the popular NDIS planning booklet.
The benefits of engaging with the arts are notable. Whether actively performing or engaging as an audience member, participating in the arts is good for our general health and wellbeing. And research shows that more and more Australians with disability are engaging with the arts. So how can you find an accessible and inclusive art program? And how can you include art as part of your NDIS plan?
Access and barriers
According to the National Arts Participation Survey, Australians with disability are actively involved in the arts as artists, audience members and for recreation. The latest survey revealed that 61% of Australians with disability engage with the arts.
Despite this active engagement, there are still barriers to access.
These barriers generally fall under four categories: physical, economic, social and awareness. Physical barriers can include a lack of accessible transport or inaccessible venues, for example. While economic barriers are often ticket prices but can also include travel. Social barriers can include not feeling welcome or staff attitudes. And awareness can include a lack of information on accessible and inclusive art and art venues. These barriers can often stop a person with a disability engaging with the arts.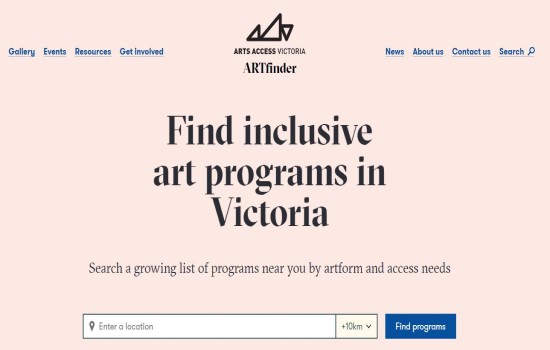 ARTfinder
But Arts Access Victoria, the state's leading arts and disability organisation, provides a handy resource that helps remove some of those barriers.
ARTfinder is a searchable database that provides links to and information about opportunities, classes and organisations delivering inclusive and accessible art.
And soon that database will be national. In 2018 the Australian Government provided funding for ARTfinder National. According to Arts Access Victoria, the national database will also include accessible art events, festivals and services.

Art and the NDIS
The extension of the ARTfinder to a national database will also provide valuable information for people looking to include art in their NDIS Plan.
Art provides a clear benefit for both mental and physical health and social connection. But how do you include art in your NDIS Plan? As outlined by Arts Hub, while the arts are not cited directly by the NDIS, they do align with several NDIS objectives. These include social and economic participation, choice and control, independence and inclusion.
Arts Access Victoria provides some tips to help people include arts in their NDIS plan:
Identify and write a statement about why/how art is important to you
Write down life goals/aspirations that involve creative activities, like arts programs
Identify arts programs, providers and other creative opportunities that interest you
Talk to your informal supports, such as family and friends who know about and support your arts participation
In addition, Arts Access Victoria provide a handy planning resource that can help people with disabilities to include art in their NDIS plan.
Accessible and Inclusive Art Program Links and Resources
Discover what accessible and inclusive art programs are available to you, wherever you are in Australia:

Accessible and Inclusive Art Programs in Victoria:
https://www.artsaccess.com.au/
Accessible and Inclusive Art Programs in NSW:
Accessible and Inclusive Art Programs in ACT: 
Accessible and Inclusive Art Programs in Queensland:
Accessible and Inclusive Art Programs in Western Australia:
Accessible and Inclusive Art Programs in South Australia:
National Accessible and Inclusive Art Programs: