How the NDIS helped me to travel the world
Independence Australia is a registered NDIS service provider and provider of Inform Online and provides a range of options for beginning your NDIS journey, accessing supports such as NDIS consumables, viewing NDIS guides, resources and tools such as the popular NDIS planning booklet.
Stacey Christie has always wanted to travel the world. Here, she shares her experience using the NDIS to make her travel dreams a reality.
Travelling overseas is a rite of passage for many young Australians. A chance to see the world, experience new cultures and meet interesting people. Shortly after my 23rd birthday I started making plans for a 6-week solo adventure through Europe. Like many other young Australians, I read Lonely Planet guides, scrolled through countless travel blogs and read all about the places I couldn't wait to visit!
Planning wasn't straightforward for me though. I have muscular dystrophy, a disability that weakens my muscles and means I use an electric wheelchair. Information about accessibility was challenging to find. When it did exist, it often wasn't in English and I had to rely on Google Translate.
It took months of research, but by the end I had an itinerary that was practically the length of novel, detailing every aspect of accessibility I could find. I was ready, but my wheelchair was not.
Wheelchair worries
My wheelchair started having major mechanical issues. I'd had the same wheelchair since my early teens, and despite receiving new batteries and parts, over time it steadily lost its ability to keep charge and would lose power rapidly. It had enough power to get me to and from work, but not enough for me to go out with my friends after work or even stop at the supermarket on the way home.
I knew that there was no way it would be able to get me around Europe. And even if it could, there was still the issue of how I'd take a suitcase with me. I
didn't have the arm strength to pull a suitcase alongside my wheelchair.
Fortunately, the National Disability Insurance Scheme (NDIS) rolled out in my area in 2016 and I was one of the first people to receive disability supports through the NDIS.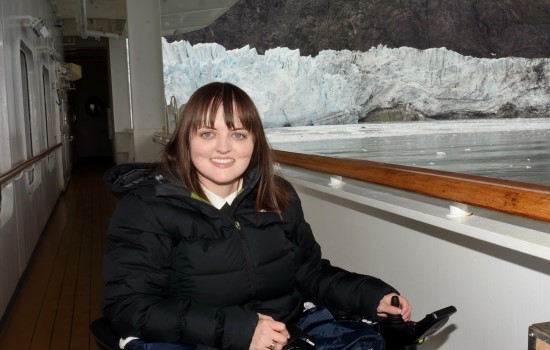 Making a NDIS travel a goal
During my planning meeting I spoke about the importance of maintaining my independence and being able to travel. They became the two main goals in my NDIS plan.
I received funding for a new electric wheelchair and other supports that allow me to enjoy life just like many other 20-somethings: working full time, living in my own home and spending time with friends. Because my second NDIS goal focused on travelling independently I was able to get some funding for a custom-built suitcase holder that would attach to my new wheelchair.
Luckily, the new electric wheelchair and suitcase holder arrived two weeks before my trip. I packed my suitcase, which sat perfectly on the suitcase holder attached to the back of my wheelchair, and off I went to London!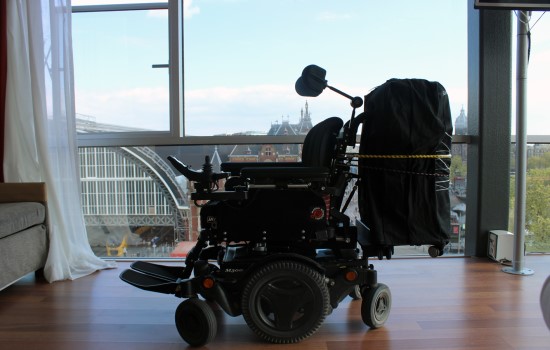 Take off!
Over the next six weeks I travelled through England, the Netherlands, Belgium and France before ending my adventure in Italy. I indulged in all the quintessential elements of a European trip – exploring charming Parisian streets, eating way too much gelato in Venice, and soaking up the history of Buckingham Palace in London.
I discovered that wheelchair accessibility was surprisingly good in many places. And I had free entry and priority access at most major tourist destinations, such as the Colosseum and the Louvre. Each day I learned so much about myself, my abilities and the world around me.
Travelling around Europe was something I would have never been able to do before I received my new wheelchair through the NDIS. It has given me the freedom to go places I simply couldn't before.
And travelling solo would have been impossible without a custom-built suitcase holder to carry my luggage on the back of my wheelchair.
NDIS Travelling far and wide
My trip to Europe was two years ago now. Since then I have travelled through the United States and Canada, even going on an Alaskan cruise – all with my electric wheelchair and trusty suitcase holder. Throughout my travels many people have commented on how great the suitcase holder is. I'm guessing it's not every day you see a wheelchair user, with a large suitcase attached, zooming past in the streets of Venice or New Orleans.
But then again, maybe we'll be seeing more innovative disability solutions as more people receive supports through the NDIS. After all, isn't that what the NDIS is supposed to be all about? Providing people with disability supports so they can live the life they choose.
Stacey Christie is a travel writer with muscular dystrophy who lives in Melbourne. She combines her love of travel, photography and writing on her accessible travel blog, Love Moxie. On her blog, she shares her travel adventures as a wheelchair user and gives accessibility tips to make travel easier for others with disability. Stacey also manages communications at the Youth Disability Advocacy Service. You can follow her on Facebook  and Instagram.