How to incorporate consumables into your NDIS plan
If you're a person with disability and you have an NDIS plan, you might have NDIS consumables as part of your NDIS Core Support. NDIS consumables are products you might use in daily life for your disability, like nutritional aids, disposable pants and pads, or skincare products. These are just a few but many other everyday items fall into the category of 'consumables'.
The facts 
Consumables, for the purpose of NDIS, are divided into eight categories: continence supports, diabetic management supports, dysphagia (trouble swallowing) supports, epilepsy supports, nutrition supports, podiatry supports, respiratory supports, and wound and pressure care supports.
NDIS consumables are low-cost and low-risk purchases. There are many online stores where you can buy these items and you can also go to stores in person to make purchases.
So, what can you really incorporate into your NDIS consumables?
When you consider how you might want to incorporate consumables into your NDIS plan, it's good to think about your daily life and what you need to be comfortable. As a general rule, a single item must be under $1500. You get to choose how you spend your allocated funds, as long as the items you buy are reasonable and necessary.
Some items that are commonly purchased include:
Catheters
Pumps and syringes for home enteral nutrition
Continence aids
Food preparation products
Would care
Safety products
Specialised mattresses
Eating aids
Some sensory items
When you think about consumables, you might not think about assistive technology, but it's sometimes possible to use your NDIS consumables budget flexibly to buy assistive technology, too.
This is only a very short list of things you might be able to use with your Core Support funding. It may be helpful to think about what you use or need on a daily basis because of your disability and make your own list.
Some tips on using NDIS consumables
There are price guides available from the NDIS which can be helpful in understanding how much certain things cost, like assistive technology. The NDIS has price limits for certain items which means you must purchase items under the limit for the items to be fully covered by the NDIS.
All NDIS plans are different because everyone has different needs, but there are some things about NDIS consumables that are the same for everyone. No one can use their funding to make purchases that don't relate to their disability, so purchases like makeup or perfume aren't covered.
It can be helpful to track how much you're spending on NDIS consumables, so you don't accidentally go over budget. If you're under budget, you also might be able to use some of your funding for other needs.
Changes to NDIS consumables due to COVID-19
There have been a few changes due to COVID-19. Until September 2020, some individuals can use funds to purchase tablets like iPads and Galaxy Tabs. iPads can be purchased when they are needed because of your disability.
There is also a temporary 10 per cent increase to the price limit of some Core Supports and it's possible to get a one-off deep cleaning of your home if you've had COVID-19.
Getting help with NDIS consumables
Navigating NDIS consumables can be confusing. but there are some important things to remember. NDIS consumables fall under Core Support which can be flexible. You can use your funding for daily care items related to your disability, and sometimes you can use these funds flexibly, too.
Everyone has different requirements, but make sure you consider what daily care items you may need so you can include them in your NDIS plan. If you need help with your NDIS application or have questions about your NDIS plan, your local NDIA office can put you in contact with your LAC (Local Area Coordinator) to help you with your plan.
You can purchase many of your NDIS consumables including continence aids, nutrition and would care at the click of a button from Independence Australia.
Independence Australia provides online purchasing options for self-managed, provider managed and plan managed NDIS participants, find out more about purchasing your NDIS consumables.
Looking for more NDIS or healthcare advice?
Check out our wide range of NDIS and healthcare information and support from the team at Independence Australia.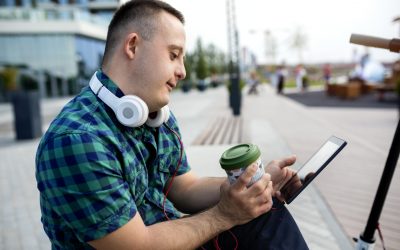 5 ways Assistive Technology (AT) can Provide Independence Assistive technology, sometimes referred to as assistive tech or AT, is any sort of technology or tool that a person with a disability might use to be more independent at home, in their community, or at work....