Shining a spotlight on accessible attractions
Now in its 15th year, Accessibility Weekend will see attractions across Victoria open their doors on September 7-8, inviting people with a physical disability who use a wheelchair or mobility aid to experience everything from a mine experience tour at Bendigo to LEGOLAND Discovery Centre at Chadstone, all for free.
Accessibility Weekend is a celebration of the importance of community access and inclusion. Most importantly, it recognises that access can have a real impact on feelings of inclusion and the ability for people with disability to participate in the community. It's for this reason that Roy Davie, a father of two who uses a wheelchair, is an enthusiastic supporter of Accessibility Weekend.
'I think this is probably the fifth year that I'll be doing something,' Roy said, listing his previous visits to attractions like Bendigo's Central Deborah Gold Mine, Ballarat's Kryal Castle and the Melbourne Aquarium.
'Getting out there and being involved in doing activities is good physically and mentally as well. Mentally it's pretty important, I think, to be sort of engaging in activities and doing things that you want to do,' Roy said.
Shining a spotlight on accessibility
For Roy, Accessibility Weekend shines a spotlight on attractions that might look inaccessible but are straightforward to visit.
'I would have had no idea that that the gold mine was accessible at all without looking myself or without Accessibility Weekend. Some of the older stuff like Kyral Castle, you don't realize that it's actually pretty accessible,' he said.
'I would never have thought, without it being on that list, that it was definitely going to work with a wheelchair.'
'One year we went to the penguin parade, I had no idea how easy it was to get around there. That was pretty cool.'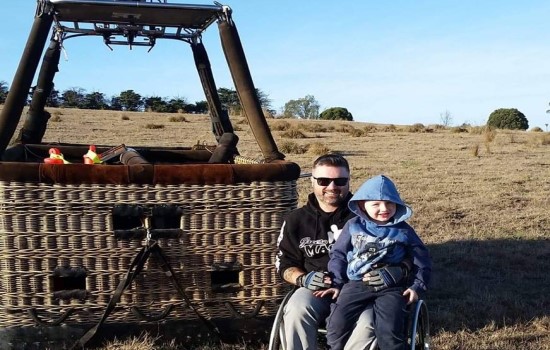 Roy Davie, pictured with his son, is an enthusiastic supporter of Accessibility Weekend.
However, more than just an opportunity for people with disability to get out and about and enjoy themselves, Roy says that Accessibility Weekend is also about being seen.
'I think getting out and seeing these attractions and interacting with not only people with disabilities but also being seen by the community that we can have fun and enjoy ourselves while we're out,' he said.
This year, Roy plans to take his family to Legoland and the Aquarium. And his advice to anyone thinking about making the most of the free attractions?
'Just get out and do it. There's no point sitting at home going oh wish I had done that.'
For more information on Accessibility Weekend and the attractions across Melbourne and Regional Victoria visit the accessibility weekend website.