Caytlyn Sharp is jumping to new heights
It's an overcast Tuesday afternoon in Warrnambool, a regional city perched on the south-western coast of Victoria. At Brauerander Park, the local athletics facility, the air is cool, the grey clouds overhead threatening rain. But none of that bothers Caytlyn Sharp. The seventeen-year-old from Terang is focused, her attention turned to her coach as they discuss minor improvements to her technique: ways she can jump further and run faster.
For Caytlyn Sharp, the track is home. A place where she feels comfortable. A place she feels free. It wasn't always like that. While today she has a collection of Australian records under her belt, Caytlyn's entry into the world of athletics was anything but smooth.
'It wasn't a great start,' Caytlyn's mum Cindy recalls, explaining that when Caytlyn's older siblings decided they wanted to try athletics she had no choice but to follow.
'Her first athletics experience at Camperdown Little Athletics was running the 100 metres. She screamed the whole way.'
'And basically, we dragged her to athletics. Literally. I had to lift her into the car for the first probably 10 weeks of the 14-week season. And towards the end, we could get her in, but she still didn't want to be there.'
'And then we had the end of year presentations, and she actually got an improvement medal,' Cindy said.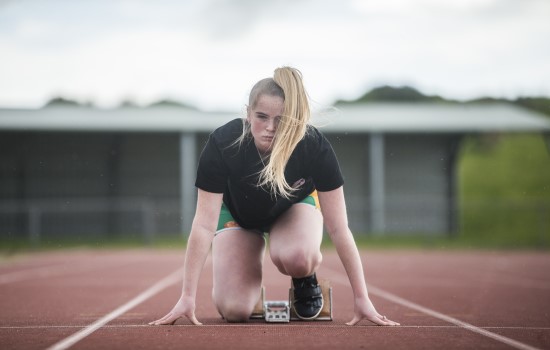 The turning point
That first medal was a turning point for Caytlyn, who credits it as the moment she fell in love with athletics.
'First of all, yeah, I hated it. And I didn't want to go and screamed and just didn't want to be there. But then after a year or so of doing it, I won a medal at a presentation night and I fell in love with it. And I was like, I got a medal! And I kept going back and just kept wanting to do better and keep winning medals and I ended up loving it,' Caytlyn said.
'Once she saw the medal [she said] I want to go back Mum, I want to do this again,' Cindy said.
Caytlyn has Autism Spectrum Disorder (ASD) and an Intellectual Disability (ID). She was diagnosed nearly ten years ago and competes in the T20 classification. The combination of ASD and ID poses some challenges for the young athlete, with noisy crowds cheering and clapping and unfamiliar tracks among them. But Cindy believes athletics has had a positive impact on Caytlyn.
'She basically found her thing.'
'It was the first time [I'd] actually seen her focus and her meltdowns went from probably every day, and you know, very extreme meltdowns to maybe two, three times a week. And then down to maybe once a week,' Cindy said.
Still, challenges remain.
'A child with ASD can look like any other child in a classroom, on a sporting field,' Cindy said. 'And it can be really frustrating for her as well.'
'At competitions a lot of the officials think because I do have a disability, a learning disability, that [they] have to treat me like I'm a little kid and I don't understand anything but, like, when it comes to athletics, I probably understand more than what they do,' Caytlyn said.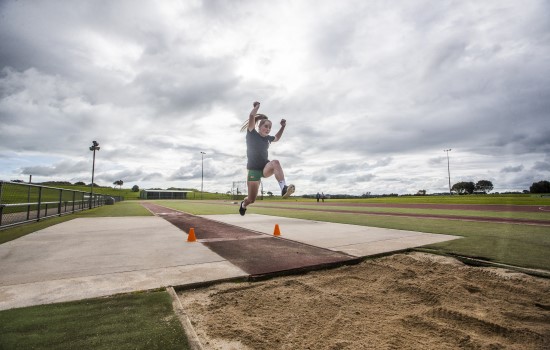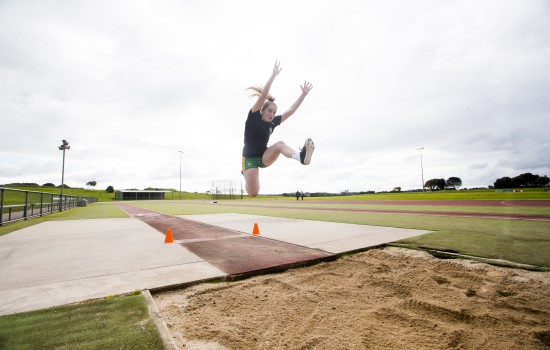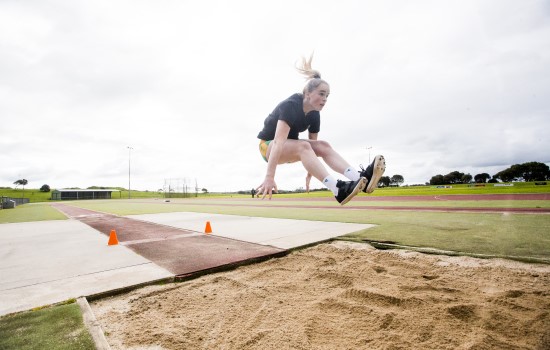 Plenty of potential
Despite her rocky entry into the world of athletics, Caytlyn's potential was spotted early. The Terang College student was named in the Australian Squad for the 2017 World Athletics Championships run by the International Federation for Athletes with Intellectual Impairments at only 14. She travelled to Thailand with the team, something Cindy says was 'pretty scary' for her as a parent. But Caytlyn triumphed, coming home a World Champion after winning gold in the High Jump and Bronze in the Triple Jump and the 4 x 100m Relay.
Now that she's found her thing, Caytlyn has big dreams. And a big training schedule to match. Although that too came with a rocky beginning.
'[At] first it was like, oh this is horrible. But then it started getting more fun,' Caytlyn said.
'I just started to enjoy it and think this is what's going to help me improve so it's all worth it.'
Today, when the seventeen-year-old talks about her training schedule or the cities she has visited in the last twelve months for competitions—Sydney, Cairns, Adelaide, Darwin—a grin spreads across her face.
'When I get out there, I just feel so free. And like nothing else matters.'
A pleasure to coach
Coach Jeremy Dixon, himself a former world class sprinter, works with Caytlyn three to four times a week and describes her as a pleasure to coach. 
'She's very determined, I think she really switches on when it comes to training and athletics. She listens which is fantastic. And she's not afraid to give me a few comments back as well,' Jeremy says, laughing.
Cindy credit the coach-athlete relationship Caytlyn and Jeremy share as instrumental in the teenager's success.
'She's just coming along in leaps and bounds with Jeremy, coming along in leaps and bounds in distances,' Cindy said.
And Jeremy is confident that Caytlyn has more success coming her way. At the Arafura Games in Darwin earlier this year, she broke her own under 18 long jump record.
'She still jumped from miles behind the board so there's certainly more to come and you can already see the confidence from some of those successes after all the training really sort of lift her energy and passion for the future which is great,' he said.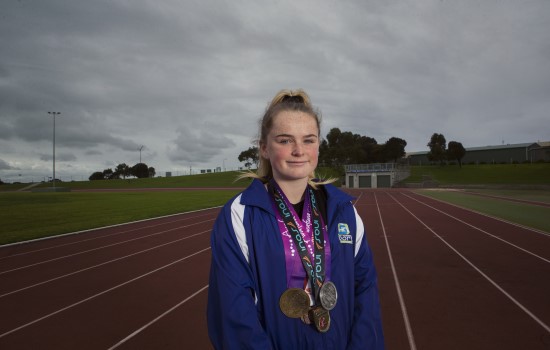 The road ahead
While not her favourite event, long jump has become Caytlyn's focus as her preferred event, high jump, is not among those offered to T20 athletes at the Paralympics. But before any conversations about the Paralympics are had, Caytlyn is focussed on the upcoming INAS Global Games in Brisbane.
'I love competing at those levels and just get very excited about it.'
'I'm mainly looking forward to competing in the high jump again and hopefully winning it back-to-back or just at least get a personal best again. And I'm also looking forward to competing in the long jump as well. I'm hoping to get a big [personal best] there as well and just try to get closer to the Paralympics,' Caytlyn said.
Despite her busy training and competition schedule, Caytlyn still finds time to encourage other young people to take up sport, whether through her role as an INAS Ambassador or her work training younger kids at her local Little Athletics Club. She wants to inspire others, especially women, to get involved in sport.
'I love trying to encourage people to get into the sport. It's just what I love to do as well, because I know how happy it makes me feel. So as long as it can make another person happy, then I'm happy.'
Jumping to New Heights originally appeared in Issue 28 of Inform Magazine.