Getting the ball rolling: Q&A with Rosie Jenes
Radio host, podcaster and footballer. Rosie Jenes does it all. On the eve of her second season in the Robert Rose Victorian Wheelchair Football League, Inform caught up with Rosie to find out what inspired her to pick up a footy and her advice for anyone thinking about playing sport.
Can you tell us a little about yourself?
​My name is Rosie Jenes, I'm 28 and I have Spina Bifida. I am a radio host on a show called "Are you looking at me?" on 3CR 855AM. I am hugely passionate about live music and advocating for more accessible music venues. I have also just started a podcast with my two best friends called "The D Word" where we discuss things like fashion, mental health and sport, from the point of view of three disabled women.

How long have you been playing football for?
I started playing football last year, so this is my second year of playing. [Last year, Rosie played for St Kilda, this year she'll be pulling on the red and black guernsey and playing for Essendon].

Have you played any other sports?
​Yes. I play tennis and I have also done hand-cycling.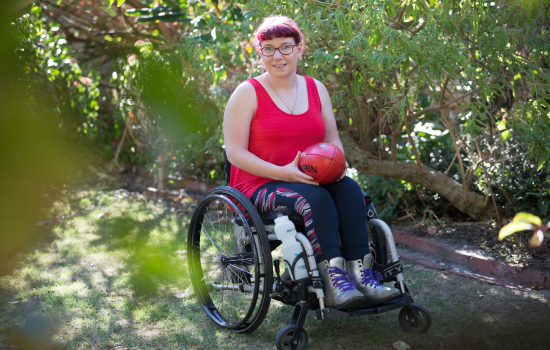 What inspired you to start playing football?
​When I was overseas doing hand-cycling with Disability Sport and Recreation (DSR), the CEO of DSR was hitting the footy around with another person from one of the footy teams. He told my friend and I all about the wheelchair AFL, so we thought it would be a fun thing to try out. When I did, I didn't realise how much I would love it.

Were you a footy fan before you started playing? If not, are you now?
My whole family have always been really sporty and loved football. All three of my brothers played it and so did my dad when he was younger. They all go for Essendon except for mum and I who go for the Swans. I however have never been too into sports and never really got the appeal of football. Safe to say I do now.

What do you love about playing football?
​I really enjoy the social side of playing football, everyone from every team trains together and we have made some really good bonds. I also really enjoy defending and knowing that I am helping my team. This has been the first team sport I have played so it's been a really good learning experience working as a team. I also love the adrenaline and how when I play all my stresses of the day go out the window.
What has your experience been like playing in the VWFL?
My experience playing in the VWFL has been a really positive one, I have gained some great skills and have made wonderful friendships. I'm excited to be on the Essendon team and will hopefully be getting some good game time. I think that it's a great inclusive sport.

What would be your advice to someone thinking about playing football or any other sport?
My advice is to just go for it. There are so many benefits to playing sport. It improves your health and fitness, it's a great way to make friends and it's a really good stress release. You have nothing to lose if you try sport. You may just find you love it.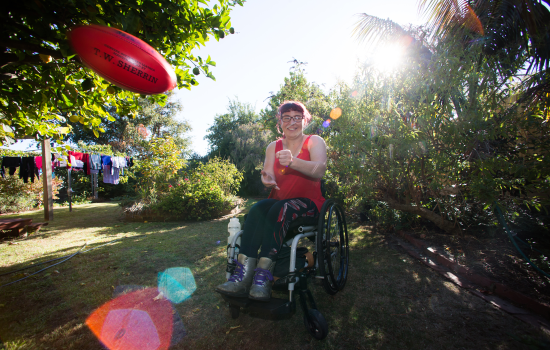 What is the Victorian Wheelchair Football League?
The Robert Rose Foundation Victorian Wheelchair Football League launched in 2018 with five teams: the Collingwood Magpies, Hawthorn Hawks, Essendon Bombers, St. Kilda Saints and the Richmond Tigers. The competition is a partnership between the Robert Rose Foundation, AFL Victoria and Disability Support and Recreation. The 2019 season will run from May to September.
Robert Rose played Australian Rules Football for Collingwood and Footscray in the VFL during the 1970s. He was 22 in 1974 when he became a quadriplegic after a car accident. After his death in 1999, Rose's family created the Robert Rose Foundation. The foundation works to help people with spinal cord injuries and their families by providing funding for equipment, sporting equipment, home modifications and education.

What are the rules of Wheelchair Football?
While many of the traditional rules of Australian Rules Football apply to Wheelchair Football, there are some key differences. These include:
Games are played on a basketball court that is divided into thirds: forward, centre, defence;
There are only five players on-court (two forwards, a centre, two defenders) but there are no restrictions on the number of players allowed on the bench;
Games consist of 4 x 10 minutes quarters;
There are designated zones (forward, centre and defence) which dictate where assigned players can play. Players must wear coloured arm bands or sashes depending on their playing position;
There is no kicking in wheelchair football but a handball is equivalent to a kick and a single handed underarm throw is equivalent to a handball;
A goal is still worth 6 points and a behind worth 1 point but only the designated forwards can score from within the forward third.

How can I get involved in Wheelchair Football?
Wheelchair Australian Rules Football is played across the country. For information on what's happening in your state, contact Disability Sports Australia on (02) 8736 1221.
Do you have story about disability and sport that you'd like to share? Let us know at [email protected]