The Do's and Don'ts of Video Conferencing for Health Care Appointments
This year, more than ever it has become apparent that staying connected via technology is imperative to how we conduct our daily lives. Many of are using Zoom and other video platforms to engage with family and friends, to work from home and attend appointments with medical and mental health professionals using telehealth.
The telehealth online system has seen a temporary increase in use due to the COVID-19 pandemic however there are many positives about telehealth that may see it become more than a temporary fix for some. That being said, telehealth and online conferencing in general isn't without its challenges for participants.
Research shows that there is a disinhibition effect when we are online; that is people behave in ways they wouldn't in a face to face meeting. Often, in video meetings or telehealth sessions we are more relaxed, and our boundaries are lower. This can mean we may inadvertently cause offence to others, or embarrassment to ourselves. Here are some useful tips to help your next online meeting or medical appointment run smoothly for all involved:
Things you should do in your telehealth session;
Be ready to join the meeting at the start time (or even 10 minutes before). Zoom has a waiting room and if you are the meeting organiser it's good to use this function.
Check your hardware before the meeting. If you haven't used Zoom before, click the link to download Zoom prior to the day of the meeting and familiarize yourself with any features you may need to use on the day; mute/unmute microphone, stop/start video, screen share etc.
Have your video on unless you are experiencing connection issues
Find a quiet space without interruptions / background noise. You may want to use a headset and microphone particularly if the meeting is about sensitive topics.
Have your microphone muted in a group situation, unless you are talking, to minimize background noise.
Have a plain background – avoid backlight from bright windows. Be aware of what is in the background, do you have pictures or material behind you that is inappropriate for people to see? Best not to have your bed in the background (unless it's made!). Similarly bathrooms or other household spaces aren't usually the best choice of background. Another option on Zoom is to use the virtual background feature, as long as it doesn't negatively impact on other participants.
Have good lighting on your face so you can be seen clearly. Avoid having a window directly behind you which will cause your face to be in shadow. Use a lamp to get the lighting right.
Adjust your camera to be at eye level if possible, especially take note of the angle of your laptop screen if using the built-in camera.
Have an agreement of what will happen if there is an interruption to internet connection, e.g. wait five minutes to see if there is a reconnection, then text/ phone host to inform issue, reschedule if needed.
Things you shouldn't do in your telehealth session;
In a group situation don't talk over each other, use the chat function to ask questions.
Don't multitask, do your best to be present in the meeting.
Don't look sloppy, think about what you are wearing and remember to dress appropriately for your audience. Avoid clothing with stripes, single coloured clothing is best and lest distracting
Don't do anything you wouldn't do in a face to face meeting.
Zoom and other platforms are a great way of keeping us connected as many of us continue to self-isolate during the global pandemic. Potentially, the future will see many people continuing to use these video platforms, with health professionals continuing with telehealth options even as we come out from under the COVID 19 restrictions. Not just a temporary fix, telehealth and remote communications could very well be here to stay!
Tracey Yeoman, IA Counselling Student on Placement
More health advice
View our wide range of health advice, tips and recommendations by visiting our health articles or checking out our top health articles below.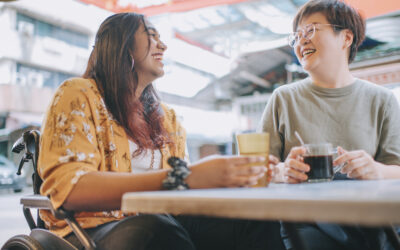 Why is Accessibility Important?About 4.4 millions Australians live with a disability. For 77 per cent of these people their main form of disability is physical,[i] which makes it difficult for them to access public areas without some form of assistance. Fortunately,...
This article is sponsored by Independence Australia, a social enterprise that provides choices for people living with a disability or other personal need, enabling them to regain and retain their independence within a supportive community.
If you would like to support the valuable work we do, you can help us to provide choice for people living with a disability or other personal need by Shopping online with us or Making a donation.