Sharps injuries: Who is at risk and what to do?
Sharps injuries, also called needlestick injuries, are those that occur when the skin is accidentally punctured by a used needle or a scalpel.
These types of injuries are serious because of the potential for blood-borne diseases to be transmitted by accident. These include human immunodeficiency virus (HIV), hepatitis B (HBV) and hepatitis C (HCV).
Who is at risk of sharps injuries?
People who are most at risk of these injuries are healthcare workers such as doctors and nurses. However, carers can also be at risk, particularly if they help someone manage their diabetes, or if they need to use an EpiPen.
How to handle sharps
If you use sharps, it's important that you follow safe handling procedures in order to reduce the risk of a sharp injury.
You should NOT:
recap or re-sheath needles or lancets
ask someone else to take a sharp or dispose of it
walk unnecessary distances with a sharp in your hand
bend or snap used needles
re-use needles
share needles
dispose of sharps in a rubbish bin or plastic bag.
You SHOULD:
use an appropriate sharps container or sharps bin to dispose of sharps
dispose of sharps immediately after use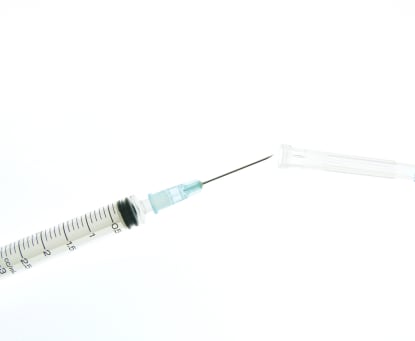 How to dispose of sharps
All sharps must be disposed of in a sharps container. This is a non-reusable container used in health care, for the collection of sharp medical items. A sharps container should be rigid, leak proof, puncture resistant and shatter proof. It should also have a tight-fitting lid and should comply with Australian Standards.
Independence Australia stocks a wide range of sharps containers such as the 750ml Terumo sharps container which can purchased online for $5.85 and delivered to your door.
When disposing of sharps in a container:
place the sharp end in first
drop the item in the container, instead of pushing it in
DO NOT place hands inside the container.
Sharps containers should be sealed after use, and should be replaced when they're 75% full. Before disposing of the container, ensure that it is sealed correctly.
You can't dispose of sharps containers like normal waste. They must be disposed of at a community sharps disposal facility. These may include hospitals, pharmacies and local councils. To locate your nearest community sharps disposal facility, visit www.sharps.org.au
Make sure that you replace your sharps container with a new one before disposing of the one you have. Sharps kits can be a practical way to buy everything you need, as they also include a sharps disposal container.
What to do if you sustain sharps injury
If you do sustain a sharps injury, it's very important that you follow these guidelines:
Immediately after the injury:
Wash the wound with soap and water.
Use alcohol-based hand rubs or solutions, if soap and water aren't available.
If bleeding has occurred, use a dressing.
If part of a sharp is lodged in the wound, do not remove it.
If you're at work, notify your supervisor or occupational health and safety officer and fill out an accident report form.
Go straight to your doctor, or to the nearest hospital emergency department.
When seeking medical attention:
Provide detailed information about the injury including:

when it happened
how deep the skin was penetrated
whether the sharp was visibly contaminated with blood
what first aid measures you used.

Ask about the risks of disease transmission (which should be low) and whether you need follow-up blood tests.
Ask whether the original user of the needle needs to have their blood tested.
After the injury:
Reduce the risk of disease transmission until after your test results are back by:

practising safe sex
avoiding blood or blood product donations.
The risk of blood-borne diseases being transmitted through a sharps injury is low. However, it's important that you follow safety procedures in the case of injury.
Please note: The information supplied is general in nature. Please consult your medical practitioner for individual advice.
More Wound Care Advice
Looking for more tips on wound care? Check out our wide range of health tips from leading health professionals.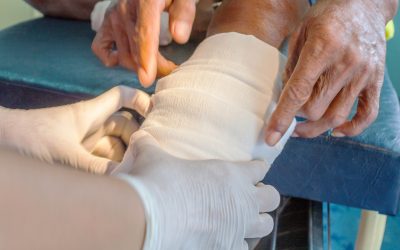 Lacerations & AbrasionsThe Skin The skin is the largest organ of the body, and it is the first line of defense against disease and any breach in skin integrity has the potential to develop an infection1. The skin has several important functions, it protects the...