Ade's Story with Independence Australia
As life's bizarre and surprise twists would have it, just three days after joining the voluntary board of DMA (Disability Media Australia), I experienced a massive near-fatal haemorrhagic stroke that required urgent lifesaving brain surgery under an induced coma – from which many did not expect me to survive.
This then led me to living the next seven months in hospital, where I had to learn how to breathe independently and sit upright again.
It was then only with the aid of my trusty four-point walking stick, the assistance of a disability support worker, and some pretty intense rehabilitation therapy, that I was able to learn to take a few steps.
I'm undergoing the process of learning to walk again, and I still harbour and nurture the hope of one day dancing again.
I later attended my very first DMA board meeting in my wheelchair, where the CEO joked that I was their most committed board member, because I had actually acquired a disability upon joining!
Go hard or go home, right?
In for a penny, in for a pound I say!
An extremely significant part of my recovery and learning how to grow and become more comfortable living in my skin as a man now living with disability, has been making sure I reinvent myself as a positive and solutions-driven person.
One who can master himself by ensuring I can reclaim my space as a productive member of society and make a valuable contribution that is both significant and meaningful.
It cannot ever be overstated how much confidence can be achieved through re-emerging in daily life, but this happens only once the basics in life have been addressed.
To that end, the fundamentals in life don't get any simpler or more essential for a stroke survivor than quality basic continence products.
I can't begin to appropriately articulate how pivotal it has been for me in rebuilding my confidence and capability in my social and professional re-emergence.
At risk of sounding distasteful or uncouth, there's something incredibly comforting and reassuring in knowing that I can start each and every day confident in the knowledge that I'm wearing my Independence Australia's continence underwear beneath my clothes – or as I have come to re-label them, my "goalkeeper jocks"!
The truly poignant and surprising epiphany-rich realization for me is that, while my stroke was the most unexpected of adversities for me, it has also proven to be the most undeniable of growth opportunities as well.
Visit IA Helps Me to see the impact that our social enterprise has had, helping to give people living with a disability a greater quality of life.
None of this would be possible without your support.
To support Independence Australia, please visit our donations page. 
Meet Our Clients
Get to know more of the people that your purchases have made a difference with.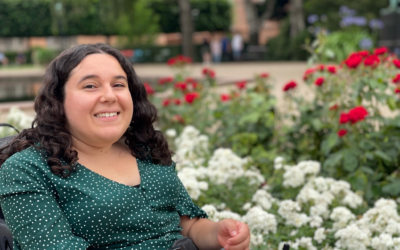 Inclusion in Education by Chantel Bongiovanni. Starting out school, most kids are bright-eyed, nervous, and excited. There can be an apprehension of whether school will go well. When it's a student with disability, those apprehensions might be slightly...