Dr Andrew Browne, a retired veterinarian and passionate bird photographer spent his 65th birthday at the Royal Talbot Rehabilitation Centre with his son Billy feeding him ice cream cake. It wasn't how he had planned or had wanted to spend his birthday, however after sustaining non-displacing fractures of his C3 & C4 (neck) vertebrae as the result of an awkward fall, that is where he found himself. Andrew has been fortunate in both his treatment and recovery. He was discharged from the Royal Talbot on February 8th 2018, just over three months after his initial injury, "able to walk with trekking poles but with partial numbness in my hands and feet, and neuropathic pain in my upper arms."
"Although to the general public I appear normal" explains Andrew, "the neuropathic pain in my upper arms requires ongoing medication."
It was at the Royal Talbot that Andrew first found out about the support group facilitated by Independence Australia, which he began attending in January 2018. Describing the group as "informal, open agenda" in style, Andrew attends as he believes that "everyone with an ongoing spinal injury needs to participate in ongoing support" – himself included. Andrew explains that he believes support groups are important for individuals because "regardless of the support they have at home, there are ongoing mental and physical issues." Based on his own experiences, Andrew explains that "physically normal individuals, unless maybe if they have professional training, cannot comprehend the changes a disability can have on another individual."
Andrew recognizes that both he and the other participants in these groups have something to offer each other – it's not only the trained professionals who facilitate the groups who can provide support or insight for those living with an acquired spinal cord injury; "As well as my individual needs, when I participate in the support groups I also gain insights into the issues that others with injuries and disabilities that are more severe than my own are experiencing. This helps me when I'm talking to others with spinal injuries that I regularly visit."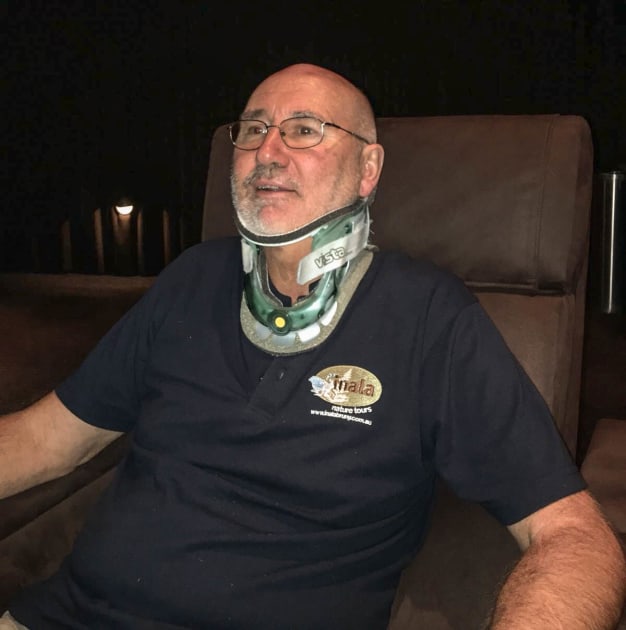 Andrew explains that in return for the great help to recovery that he received from medical and ancillary professionals, his wife and family and fellow patients at Royal Talbot, he maintains contact with others living with a spinal disability, including fellow patients from his time in Royal Talbot and from the Independence Australia discussion group. The contact is varied; "a monthly visit with an outing to a cafe for coffee, a restaurant for lunch, a stroll around the block or a visit for 2-4 hours to allow respite for a wife to get out of the house. For another with high level quadriplegia in a nursing home it's just a monthly visit and chat, or otherwise for some others it's just a regular telephone call, and a catch up every 3-6 months."  
"Firstly I regard these individuals now as good friends, and secondly I owe them so much, as when I was in Royal Talbot I was improving daily, and despite their little or very slow progress, they gave me nothing but support and encouragement to push through to regain my mobility: they were so happy for my gains." 
In 2020, as Australia began to lock down in response to the spread of COVID-19, the Independence Australia support groups quickly transitioned online and were able to continue with the use of Zoom. Participant numbers increased as the barrier of travel, transport and carer assistance suddenly became void. "Online/Zoom meetings breakdown the barrier of time and distance from the usual physical meeting place in Collingwood," explains Andrew.
Now that Andrew is retired he prefers to spend his time doing things that he loves, and through following his passions, including bird photography, he has found ways to manage his pain, explaining that "I'm not a patient person but when I'm on a bird photography outing I can sit patiently for hours waiting for some bird action… The ongoing neuropathic pain in my upper arms can be a real bugger at times. When I'm out looking for birds to photograph, and onto some bird action, the pain and discomfort disappear."
"My other interest which supplements my bird photography is 4WD touring with my club, Idlers 4WD Club Vic. We travel to central and northern Australia via outback and desert roads and tracks during the southern winter. I currently lead trips of 6-8 vehicles. When something very physical needs to be done everyone chips in to help"
With funds generated through the sale of health care products, Independence Australia is able to provide access, at no cost, to psychology and counselling programs for people living with a spinal cord injury and their families.